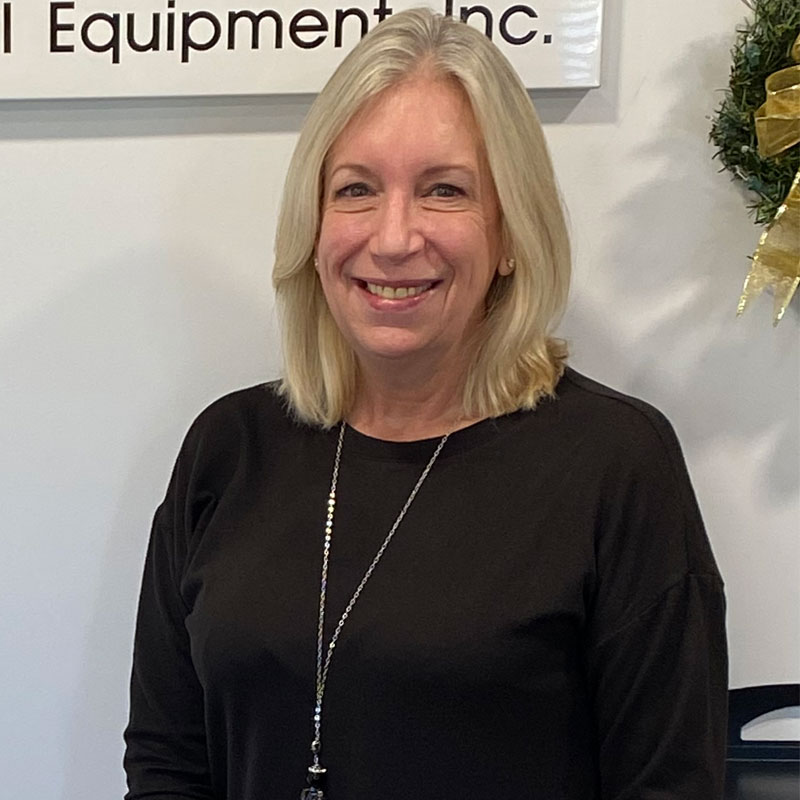 Linda Blough
President
My late husband, Keith, and I founded Choice Home Medical Equipment in 2001. We modeled our business after his brother's medical equipment company in Virginia Beach. I have a computer systems analyst degree with a minor in accounting.
We are a family-owned local business. Our reimbursement (as well as other medical equipment companies) is set by insurance, so what sets us apart is our service. We try to make a personal connection with each patient. We're not perfect – but we sure try.
Whether a referral source, a patient, or their caregiver, my goal is to make each interaction with a client as seamless as possible. No "Pressing 1" for this – you will talk to a LIVE person when you call our office! We are big enough to handle your equipment needs but small enough to "turn on a dime" and make a change when it's required.
After experiencing hospice care with my husband and my parents, I know what a difficult time this can be, and I am so proud to send my delivery technicians and equipment into people's homes because I know they will bring comfort to both patients and their families.
I am a board member for Crossroads: Pathways to Success which helps young men gain life skills to succeed. I also support several area hospices and their programs. I enjoy pets, Pilates, reading, Steelers Football, and traveling to see my daughters.
---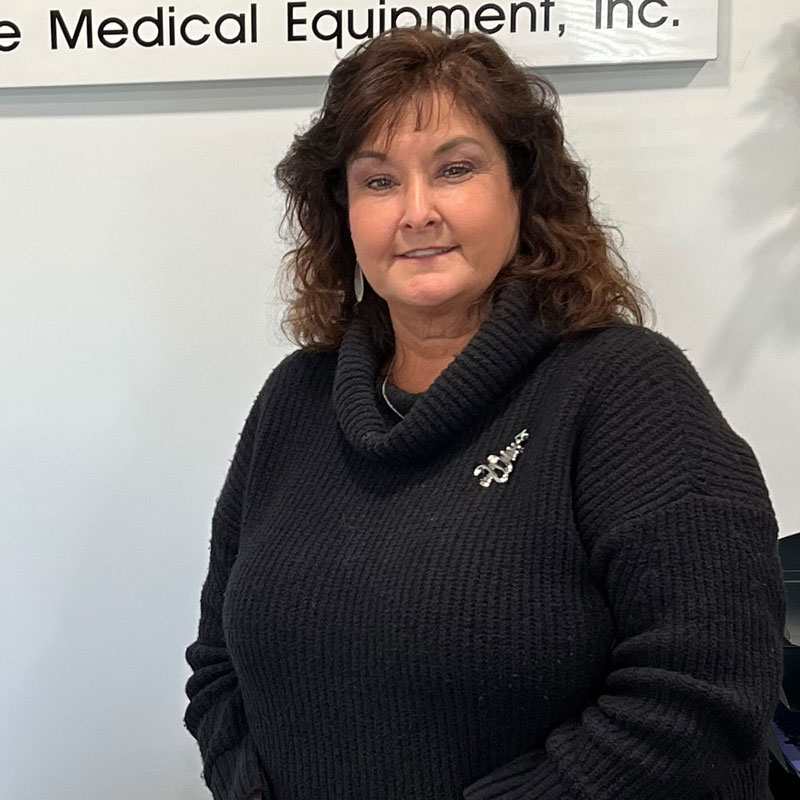 Sharon Weaver
Office Manager
We are a caring company with personal one-on-one attention to the patient. Seeing that their needs are taken care of in a timely manner is my priority.
I have been in the medical field in some form for 35 years. I have worked in medical offices and another DME provider that was a national company. I have experience as a medical assistant as well as payroll and billing.
I enjoy anything outdoors, reading, being with family and friends, and supporting Light The Night cancer fundraising.
---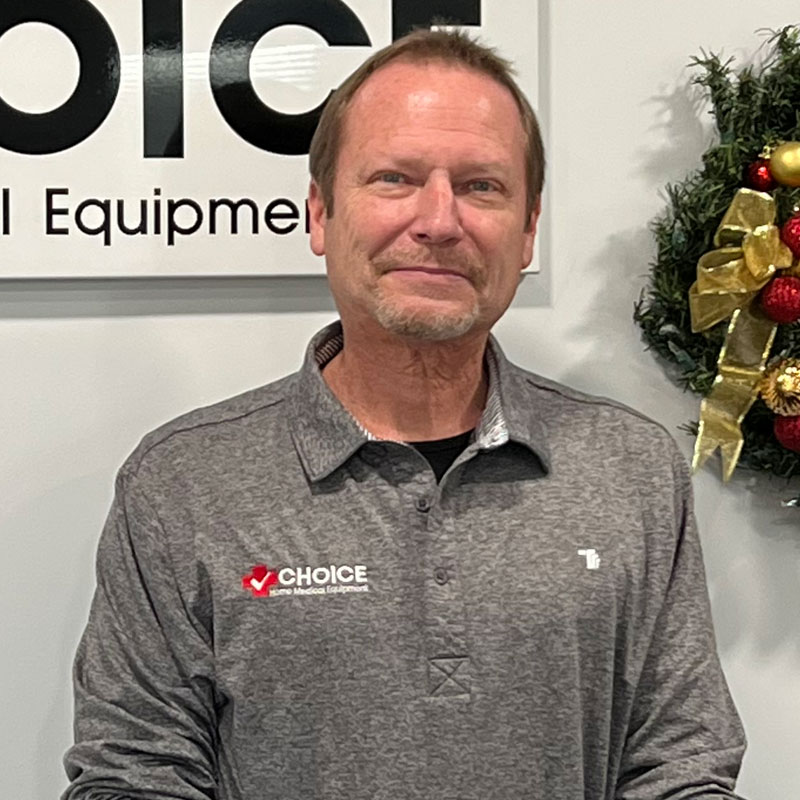 George Smith
General Manager
We are a small-town company making sure we treat each patient with individual care & not as another number. We also make each delivery or pick up a priority & do so in a timely manner.
I have 27 years of managerial business experience in insurance. This includes lots of time dealing with a variety of people & different situations. It gave me much insight into how we can best serve the needs of our patients.
I strive for each patient to receive the best service & care possible. I also want to make sure they are comfortable during the difficult transition into hospice care. It is never easy & it is our goal to be supportive of their needs.
It is great to see our team work together to give great care to all of the patients. Watching the patient, families & caregivers ease once we explain how the equipment will make them more comfortable is very rewarding.
In my free time, I like to work on classic cars, cycle, visit the beach & boating. It is also great to spend time with family & friends. I am a member of the Elks Lodge & enjoy helping the community through them. I also take time to volunteer at the local elementary school as often as I can.
---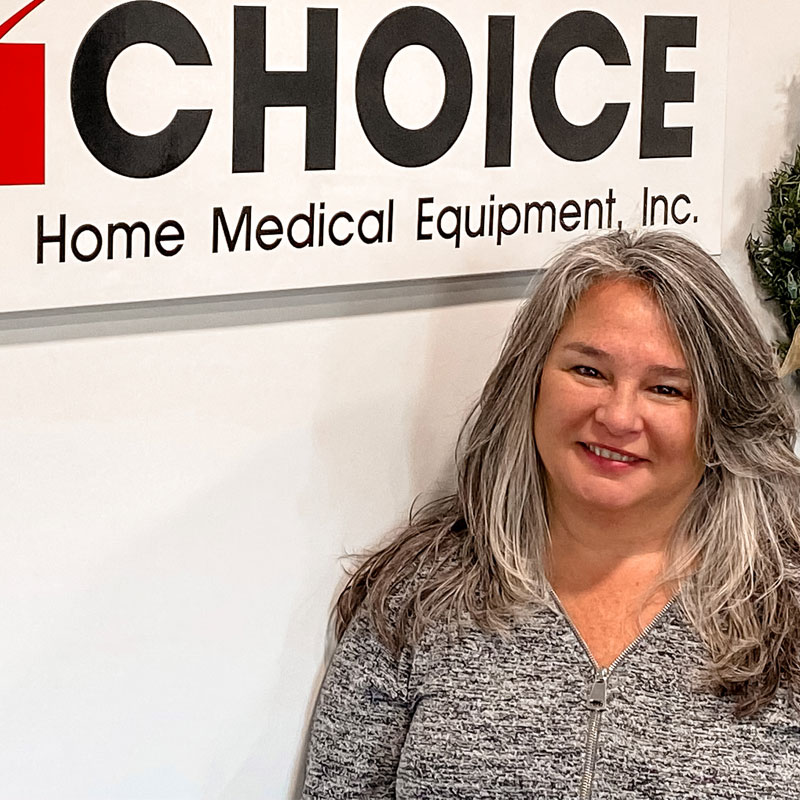 Angie Conner
Customer Service Representative
My goal with our clients is to make sure they are getting the correct equipment and in a timely manner. We are available 24 hours a day and it's our job to make sure our clients are happy.
We care about our clients and my experience with communication, excel, word, ten key, typing, and computer skills helps me contribute to meeting their needs.
I have been involved in my community through the High Point Elks for 16 years now and in my free time, I enjoy spending time with my children and husband whenever I get the chance. I also enjoy spending time with my cats, and my grand dog & cats. I like sewing, scrapbooking, and any other craft.
---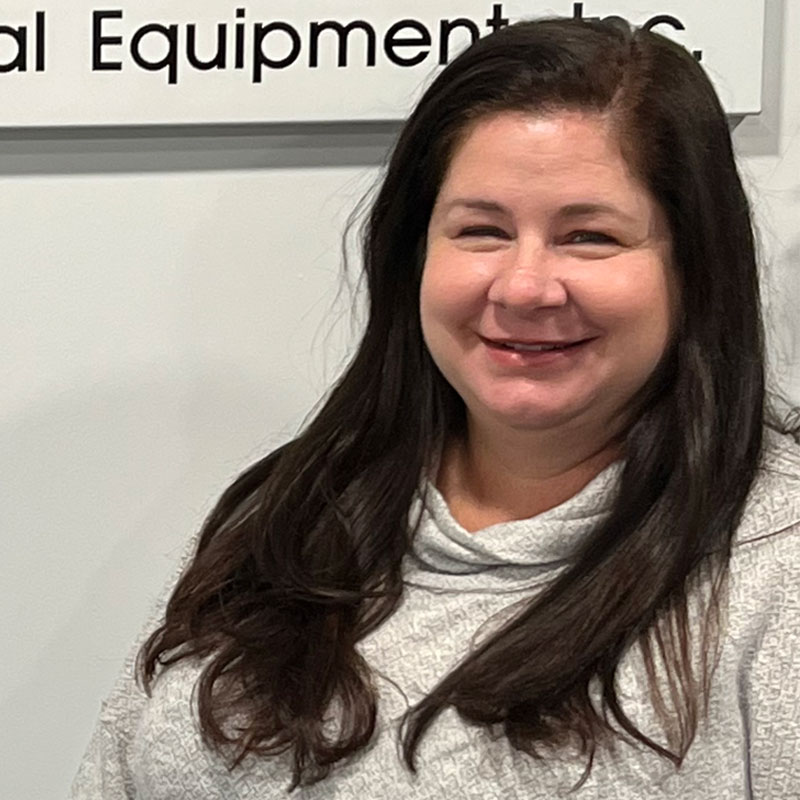 Danielle King
Customer Service Representative
I hope to give each patient and family a kind, calm and friendly voice that shows we care about their experience with us. Each patient has a different story and circumstance and I want them to have the induvial assistance they deserve.
I love working with great coworkers who share the same goal of helping patients. We make a great team! Whether it is CPAP needs or Hospice care equipment we have the staff to assist you.
My family and I volunteer at our church often. We make food boxes and deliver them to others in need. I also volunteer with my daughter's schools and sports as well. I am always on the go and busy helping everyone.
I spend most of my free time driving around my 3 active children. They are only young for a short time and their joy is my joy. I also love to travel when given the opportunity. A good game of pop culture trivia is never turned down even if I know my husband will win.
---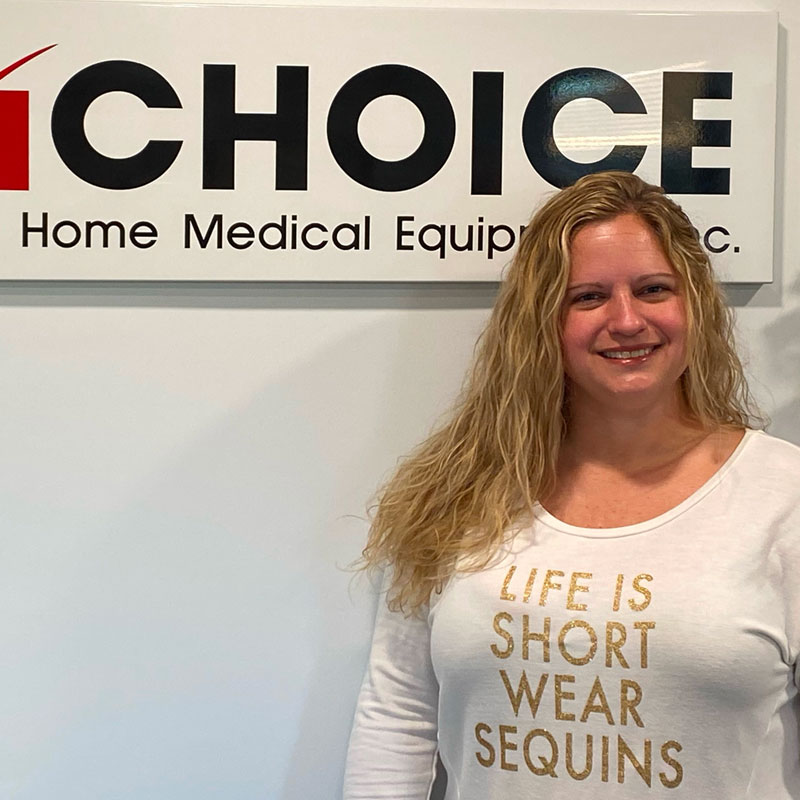 Jamie Dietz
Customer Service Representative
We are a family-owned small company so we are able to connect with our clients and give them a more personalized experience.
I consider my job as a whole to be incredibly fulfilling. I am able to help people every day in such a way that it makes not only their lives but the lives of their family members, easier. I feel that I help clients to enjoy the time that they have left with the people they love.
I love to dance! I have been a competitive clogger since I was 6 years old. I spend as much time as possible with my wonderful family and friends, usually listening to live music or exploring different festivals. I enjoy reading mystery/thriller/horror novels as well as time in the sun doing yoga or walking my dog Kya.
I have also been involved in various customer service positions in the past. I also gained valuable insight into the medical community as a medical transcriptionist, which taught me a variety of medical terminology and equipment usage. Throughout my work experience, I have become familiar with different computer programs and technology.
I am an active member of the Junior League of Greensboro. We are a large group of women that are interested in being leaders within our community. Through the Junior League, I have been able to volunteer to help with our community's senior citizen population as well as with children and literacy. I am also an active member of the animal rescue community and strive to help animals that are in need.
---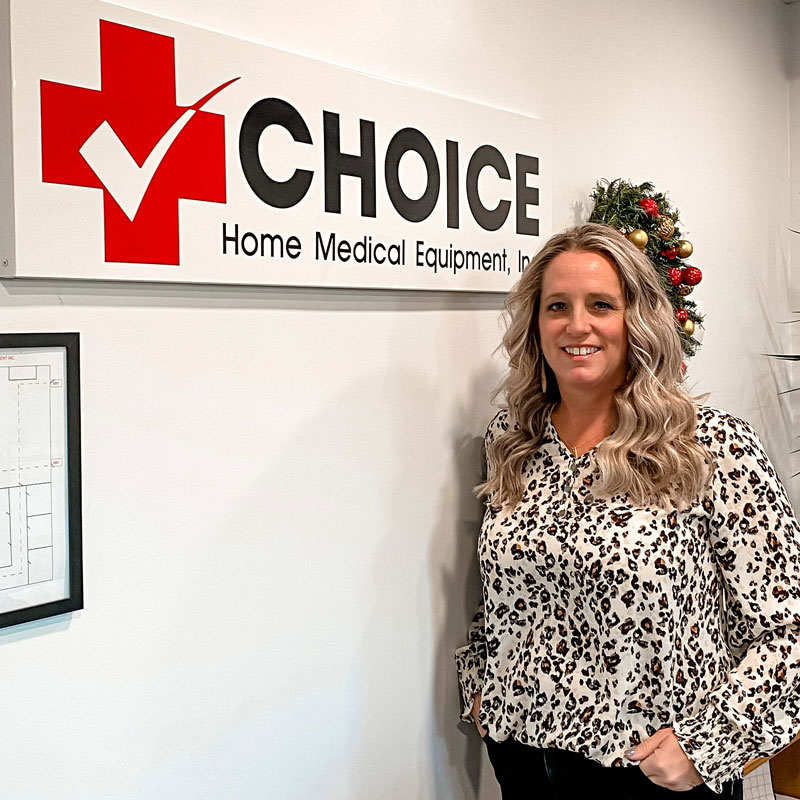 Jennifer Peterson
Respiratory Therapist / Respiratory Care Practitioner
My goal with each patient is to be sure when they are finished meeting with me they should completely understand whatever equipment I am showing them and the reasoning behind why they are using it.
Knowing that our patient's medical needs have been fulfilled to the best of my ability is important to me.
I have over 24 years working as a Respiratory Therapist. I started my career out working as a Respiratory Therapist in a hospital for 2 1/2 years, then transitioned into working in the homecare setting. I have remained in the homecare end of respiratory now for the last 22 years acting a lead Respiratory Therapist for most of it.
We have a personal touch from the beginning of the process (ie: receiving the order/processing the order) all the way through to the end setup. There is always a voice on the other end of the phone line.
We live in a small town my family has become very involved with local business's/restaurants organizing events to help raise money to go back to the local small merchants. I love being outdoors no matter the weather. I also love going to the gym with my husband every evening to work off the daily stresses by beating them out on the boxing bag.
---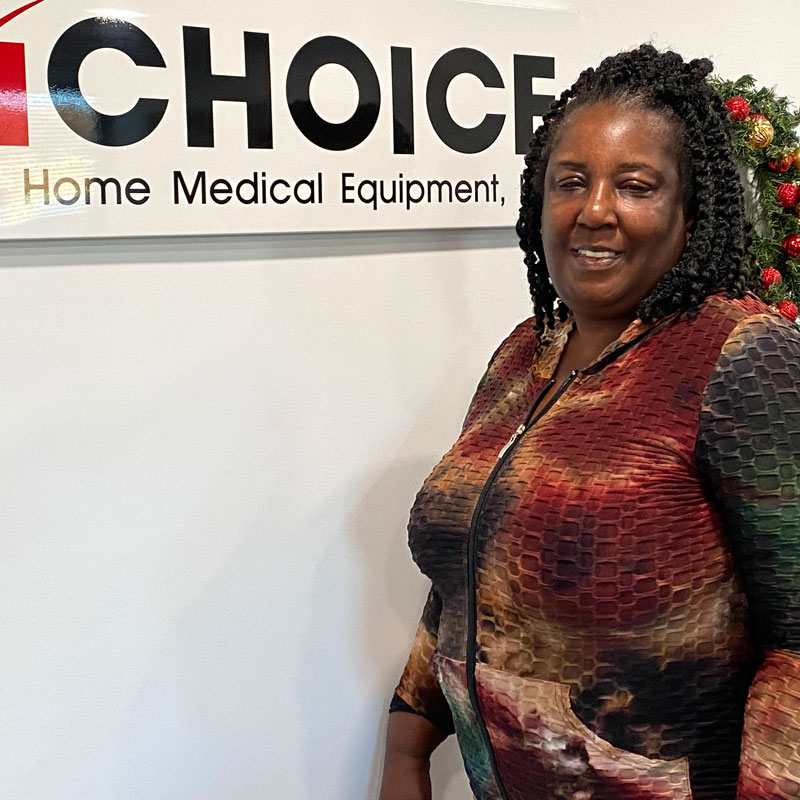 Diane Powell
Accounts Receivable Manager
We provide the best service, are trustworthy, compassionate, and are a proven leader in our field. We're a small "family" company, therefore we're able to give personal attention to our patients and clients.
With 28 years of experience in Billing, Collections, and Receivables/Payables as well as being a certified professional coder for 15 years, I believe my skills contribute to our customer satisfaction.
I enjoy working with my colleagues, being appreciated, and the open-door policy within the company.
---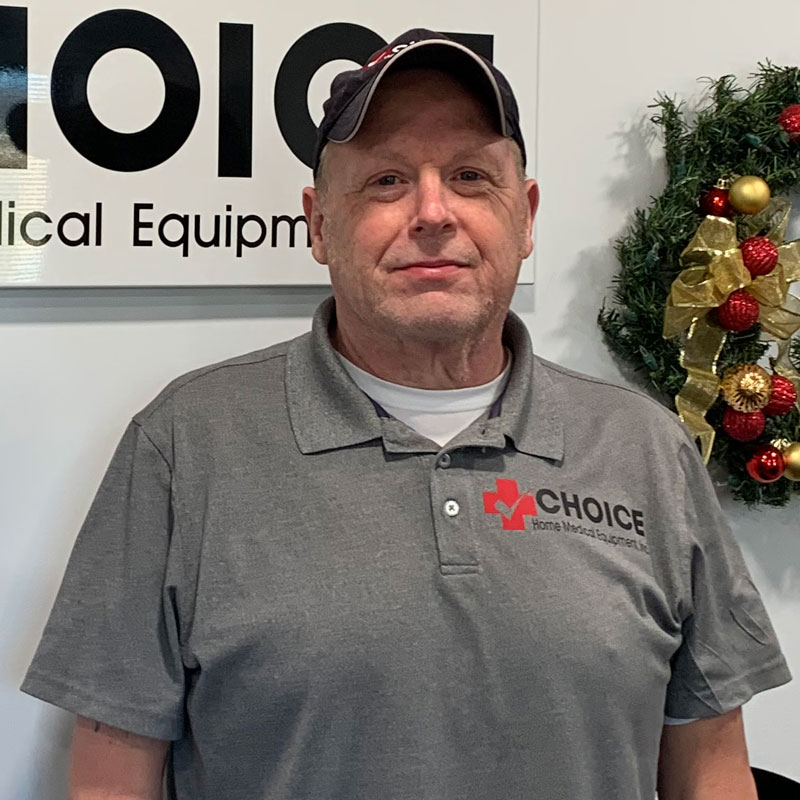 Stephen Heath
Driver Technician
It is wonderful to help all our clients. With each call, I try to step out of the box & into it, this is the best way to help everyone I encounter. We are a small company that gives big service for every patient.
I am a quick learner with common sense and motivation. Safety is always a main goal of mine. I also want to give good care & service to all of our patients.
In my free time, I train, breed, and show Pembroke Welch Corgis. I spend quality time taking great care of these smart and beautiful dogs.
---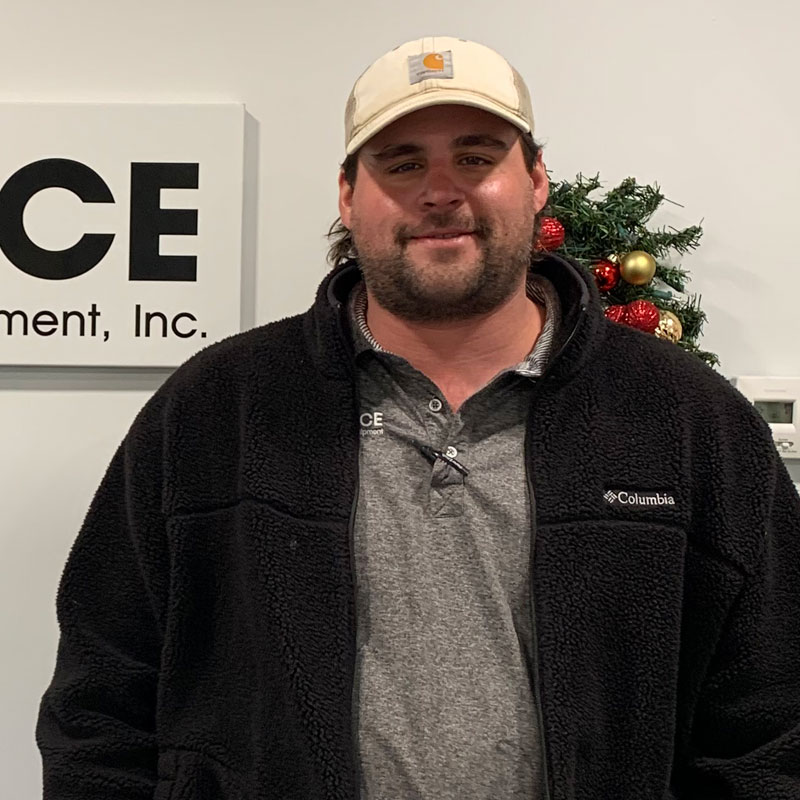 Austin Smith
Driver Technician
Being able to help others has been a benefit of this job that is very fulfilling.
Having great communication skills for this job is a skill I use throughout the day. Being able to show patients & their families how to properly use the equipment is a must.
I think that we have the best equipment and drivers in town and I try to make sure I leave every patient satisfied & happy with our care & service.
Being able to help others has been a benefit of this job that is very fulfilling.
In my free time, I love to fish, golf, and hang out with family & friends.
---
Chris Rose
Driver Technician
I enjoy being able to help others & giving them reliable care at such a fragile time. We give same-day service & we are the fastest in town.
Over the years I have learned to do it all. Hopefully, our clients can see my expertise through my interactions with them.
I try to make sure each setup is always done correctly & efficiently with compassion.
In my spare time I work out often and I hold the North Carolina record for the deadlift at 775lbs.
---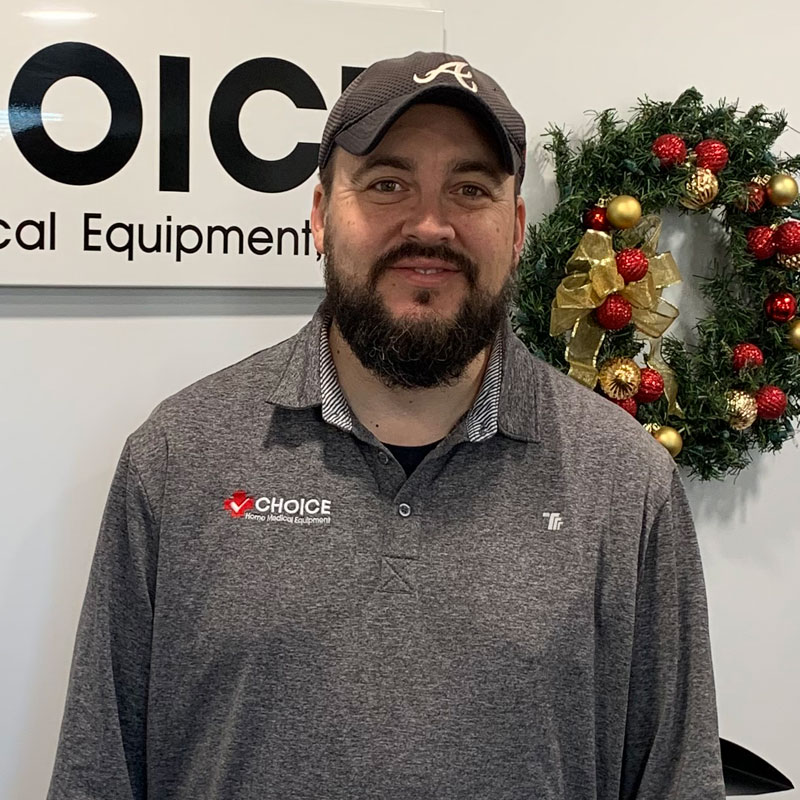 Brad Roberson
Driver Technician
I have worked at Choice Home Medical Equipment since 2009 and my goal is to make each client feel more comfortable in their situation. Helping each patient I encounter during such a stressful time is my mission.
I am the Worship Leader at my church and I'm very involved with our youth group and outreach ministries. In my free time, I enjoy spending time with my family. I also enjoy music, particularly playing the guitar & piano.
---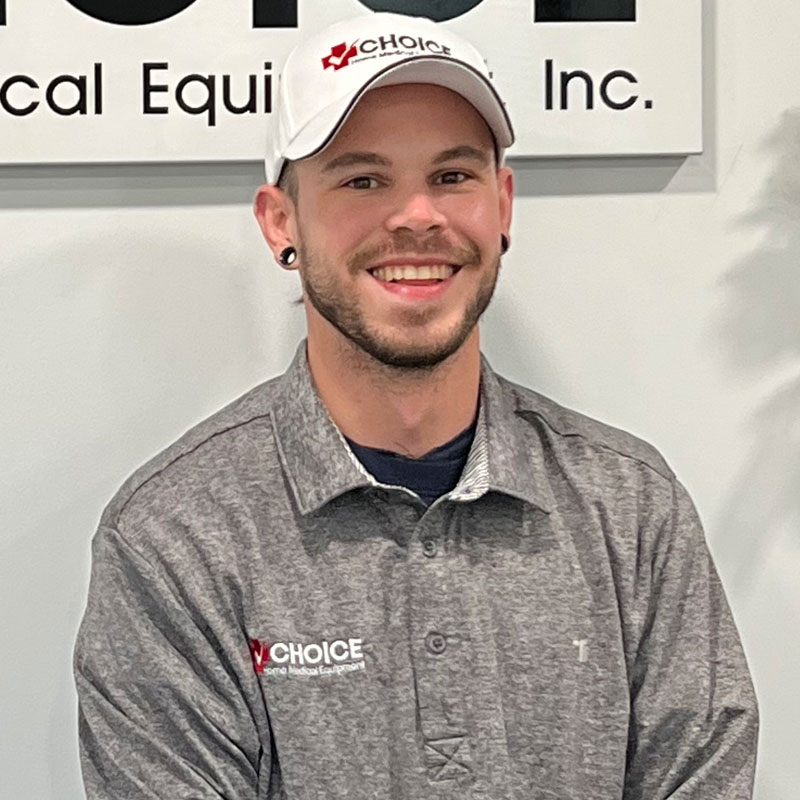 Zak Berckman
Delivery Technician
I enjoy helping others & giving them peace of mind during such a difficult time. I have compassion for others and I have a lot of maintenance & electrician experience. These are all very beneficial to my caring & assisting patients' needs.
Our company strives to pick up & deliver in a timely manner as well as fix any issues that may arise.
I want to make sure each patient & their family have everything to be comfortable & 100% satisfied with us.
I enjoy spending time with my family & working on home improvements. I try to do all my home maintenance myself without hiring anyone to do it for me.
---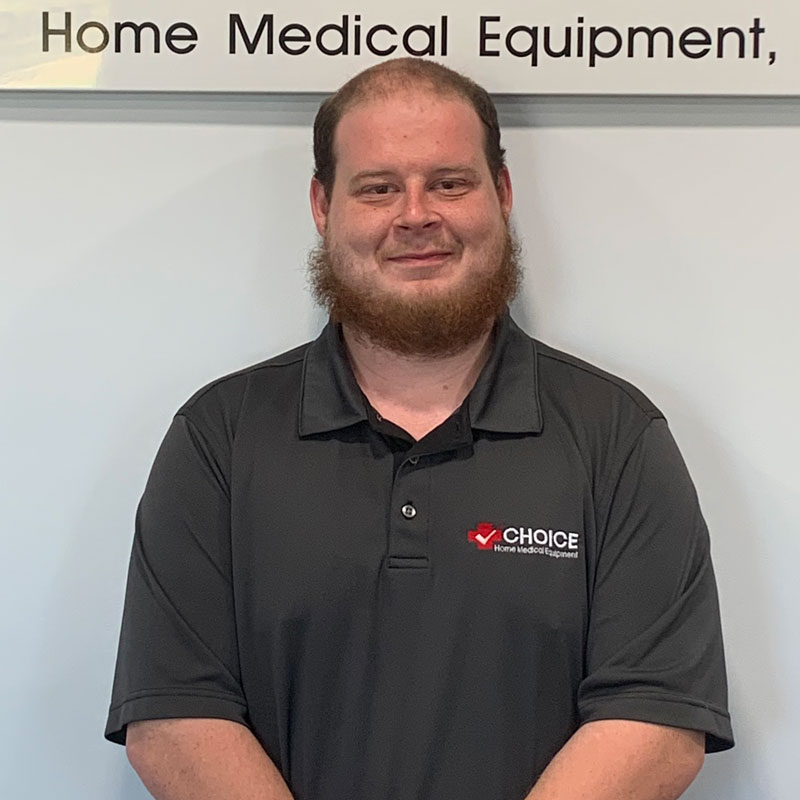 Travis Staley
Delivery Technician
I enjoy helping others and working with such a friendly group of co-workers. Here at Choice Home Medical Equipment, each member of our team is polite, completes work in a timely manner, and strives to do our best job for each patient.
My goal is to make sure each patient and their family are happy when I leave their home.
I have maintenance, servicing, and customer service experience which has given me the confidence to do my job daily.
I enjoy watching sports and college basketball is my favorite. Go Tarheels! I am also willing to lend a hand to others in need.
---